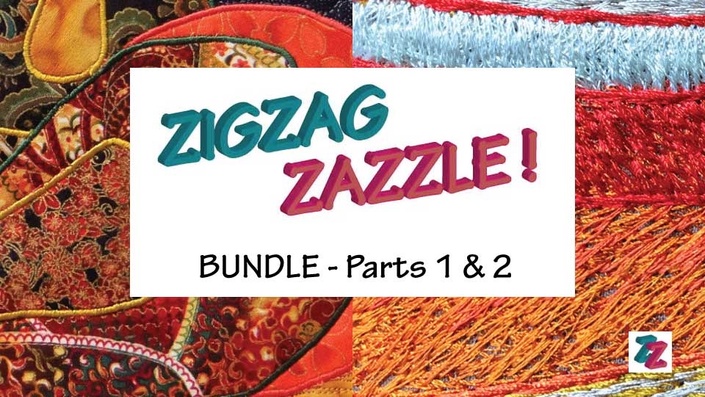 ZIGZAG ZAZZLE! Class Bundle
Creative Techniques for Regular & Free Motion ZigZag in Textile Art & Quilting - Parts 1 & 2
This Bundle includes:
ZigZag Zazzle Part One: Creative Ways to use Regular ZigZag stitch in Textile Art & Quilting
ZigZag Zazzle Part Two: Creative Techniques for Thread Painting with Free Motion ZigZag
Courses Included with Purchase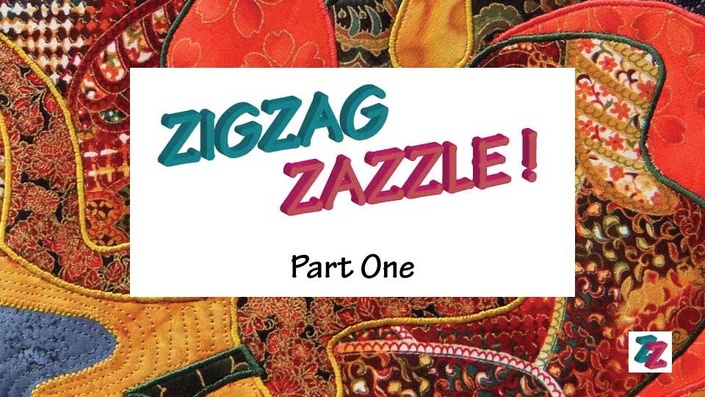 ZIGZAG ZAZZLE! Part 1
Creative ways to use Regular ZigZag stitch in Textile Art and Quilting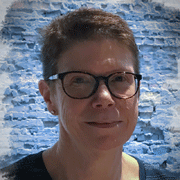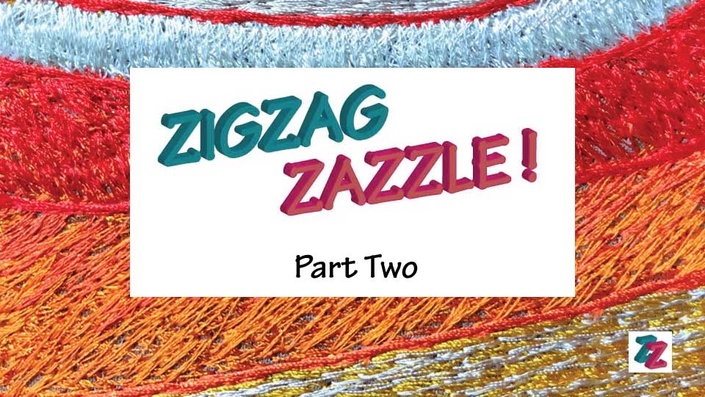 ZIGZAG ZAZZLE! - Part 2
Creative Techniques for Thread Painting with Free Motion ZigZag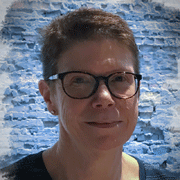 Original Price:
This bundle is currently closed for enrolment.
Existing students retain full access to this course. Login using your personal login details.
This course is closed for enrollment.
Have you ever considered ZigZag stitch for thread sketching & thread painting?
Learn how now!
Who is this Class Bundle for?

This Class Bundle will be perfect for you if...
You are a beginner at textile art or quilting and want to learn everything you need to know to get started with

Regular ZigZag

stitch.

Are adventurous and want to try

Free Motion ZigZag

for thread painting or quilting.


Although the free motion techniques are more 'advanced', they are not difficult after a little practice.

Both the regular and free motion techniques are wonderfully useful in Textile Art, Quilting and Thread Painting!
Purchasing the Bundle gives you a great discount, plus all the Projects, Designs and Reference Notes from both Classes, that are yours to keep forever!
What to expect from the Classes...
These two classes take you from the very basics of using Regular ZigZag stitch (with the feed dogs up) to advanced techniques using Free Motion ZigZag stitch (feed dogs down) for Thread Painting.
Over the two classes I'll show you:
ZigZag Zazzle! Part One:
This video-based course focuses on guiding you through the all basics of using regular ZigZag stitch, with the feed dogs 'up' - all those little things I learned on my own journey, that will help you create wonderful, professional work.

Everything you need to set your sewing machine up correctly:
Which presser foot to use

All about stitch width and length

Tension - how to avoid problems before they occur

Machine needles and threads

Fabrics

Stabilising your work

How to start and stop a row of stitching

Tips to make your work look professional:
The correct way to stitch corners, curves and points

Explore creative and unusual ways to use ZigZag stitch in your work - Yes! It IS possible to 'draw' with ZigZag stitch without going 'free motion'!

Make a stitch sampler to master the techniques
Create two stunning projects:
Perfect your technique for using satin stitch with appliqué

Create your own unique mini-landscape design, stitched with ZigZag stitch

Includes downloadable designs to get you started!
ZigZag Zazzle! Part Two:
Over 3 Modules, and a series of practical activities, this class focuses on giving you a rounded overview of free motion ZigZag stitch and a launching platform to take your future work in whatever direction you choose.
How to set up your machine for Free Motion ZigZag

A range of different stitch styles to explore

An introduction to Lettering with Free Motion ZigZag
Four Practical Projects, including downloadable designs:
Blending and Shading

Thread Painting with 'Sideways' free motion ZigZag

Thread Painting using a Hoop, using large free motion ZigZag

Thread Painting from a sketch, combining Sideways & Multi-directional free motion ZigZag
Courses Included with Purchase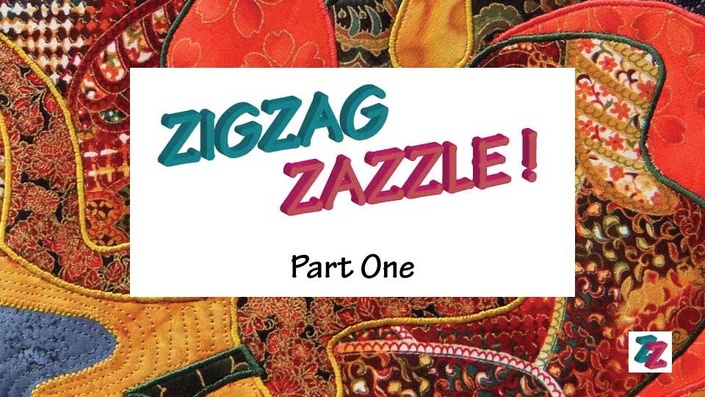 ZIGZAG ZAZZLE! Part 1
Creative ways to use Regular ZigZag stitch in Textile Art and Quilting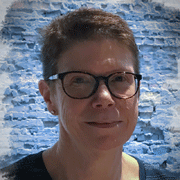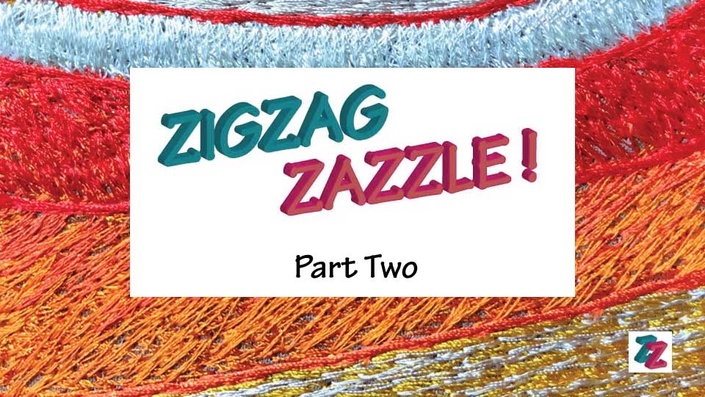 ZIGZAG ZAZZLE! - Part 2
Creative Techniques for Thread Painting with Free Motion ZigZag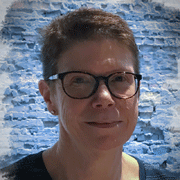 Original Price:
My Goal!
My Goal is to guide your ZigZag journey, from the very beginning, to more advanced and set you on a creative journey that will continue for 'life'.
Once you get 'hooked' with Thread Painting, it's hard to put it aside. It is SO much fun!
At the end of these courses you will be able to explore a whole new world of creativity!
What students say about Deborah's online courses...
'Hello Deborah, I'm new to free motion quilting and so pleased I enrolled on your course. I have watched the whole course, and enjoyed every minute of it, with your very clear and pleasant teaching method before I venture into drawing and sewing my first picture. Kind Regards Val from the UK.' (Freestyle Machine Thread Sketching)

'This is one of the best on-line courses I've ever taken. The tone is just right, and everything seems to be covered, in an orderly and understandable manner. The downloads are excellent, and the lessons very straight-forward. Having listened and read through the whole course, I'm now ready to begin sewing, and am looking forward to also incorporating other fabric techniques I'm familiar with, such as dyeing and printing, into future work. Thank you, Deborah, for all the effort put in to making this course so very good.' Alison.(Fabulous Fabric Landscapes)

'What a wonderful course, I'm so pleased that I subscribed. Thank you for sharing your expertise and making the lessons so accessible and easy to follow.' Ann. (Fabulous Fabric Landscapes)

'I've just been through the course, so I know what to expect, and find it clear and easy to follow. The Lifetime access is so useful, as like many others, I have to fit the course around other things, and had it been access for a set time, I'd have found it difficult to complete. As it is, I'll be able to relax and make the most of the time I have to create and stitch. Looking forward to beginning. Thanks, Deborah.' Alison (Fabulous Fabric Landscapes)

'Hi Deborah, I love this class. of course I jump around, because I am soooo excited. How can I send the picture I would like to use for your imput? Then I will start with the class "homework" :) Thank you Margaret.'(Fabulous Fabric Landscapes)

Hi, I just wanted to say hello and thank you! I have never taken an art, sewing, or quilt class. Having been completely self-taught has been fun BUT I am thrilled to have found you! Your style, manner, and expertise are perfect for me to learn new skills and enhance others! I am having so much fun learning from you! Suzanne (Fabulous Fabric Landscapes)
Your Instructor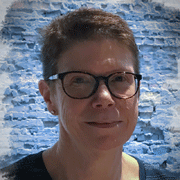 Deborah Wirsu is an Australian Textile Artist who has created hundreds of pieces of thread sketched and machine embroidered art, patterns and quilts, plus dozens of demonstration videos, tutorials and courses on these subjects.
She has also published several books on various topics, which are available at Amazon.com in paperback and Kindle ebook formats :
Creative Thread Sketching: a Beginner's Guide
Appliqué Art Quilts Inspired by Stained Glass: a contemporary variation on stained glass quilt technique – without bias tape.

Art Quilt Finishing Essentials: How to Bind, Display, Label, Store, and Care for your Art Quilts.
Her Work...

With a love of freestyle stitching, she builds texture and detail on collaged, dyed and painted surfaces, creating art quilts, thread sketches and textile pieces.
She has given workshops, presentations and talks, exhibited and sold works online and in various countries, and been featured in Australian Quilters Companion magazine a number of times.
Her Business...

Deborah runs a successful online Arts Education business from her website www.ThreadSketchingInAction.com [formerly www.DeborahWirsu.com]
In her 'spare time', Deborah is also a professional Musician - performing in orchestras and chamber music, and teaching viola and violin. Just in case this isn't enough, Deborah is also a published author and editor, and teaches English to ESL (English Second Language) students.
Deborah is involved in a number of community organisations in the Arts and Music fields, and loves to play opera!
Frequently Asked Questions
When does the course start and finish?
The course starts now and never ends! It is a completely self-paced online course - you decide when you start and when you finish.
How long do I have access to the course?
How does lifetime access sound? After enrolling, you have unlimited access to this course for as long as you like - across any and all devices you own.
What if I am unhappy with the course?
We would never want you to be unhappy! If you are unsatisfied with your purchase, contact us in the first 30 days and we will give you a full refund.
What currency is used for payments for this course?
The cover price is available only in USD due to constant international currency fluctuations. Your bank will convert the payment to your local currency.
Why is sales tax added to my purchase?
Each country has different legally-required digital sales tax applied to courses. Teachable manages these taxes so that they reflect the legal digital sales tax laws of the country YOU reside in. You will be able to see how much sales tax is being added before completing your purchase. Not all countries, and not all types of digital courses, require sales tax. It will be added to your purchase only where necessary.